Light Orangeade
Our favourite Orangeade is now available with minimum calories, thanks to the sweetener from the plant stevia. For some, it is difficult to maintain natural taste and remove the calories, at the same time. For others, it is a matter of patience, persistence and adherence to one's goal. EPSA, after two years of research, launches in 2012 the 1st greek light Orangeade (with sweetener from the plant stevia), with no colourants or sugar added, maintaining its rich content in juice (20%). Suitable for diabetics. Don't think about it. Just enjoy it!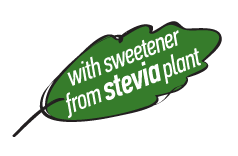 Carbonated orangeade with sweeteners. No sugar added. Contains natural sugars.
Ingredients: Water, Orange Juice 20% (from concentrated juice), Carbon Dioxide, Acidifier: Citric Acid, Natural Flavourings, Preservative: Potassium Sorbate, Stabiliser: Guar Gum, Sweeteners: Steviol Glycosides, Acesulfame Potassium and Sucralose, Antioxidant: Ascorbic Acid.
Nutrition Facts per 100ml: Energy 37kJ/ 9kcal, Fat 0g of which Saturates 0g, Carb 2,2g of which Sugars 1,8g, Protein 0g, Salt 0,01g.
Available Packaging:
– 330ml Slim Can